#20 The Graduate Issue 2023
This year The Graduate Issue attracted more submissions than ever before, from artists from all over the world. The ten projects selected and shown here use photography in intelligent and at times ground-breaking ways, dealing with urgent issues such as the environment, identity, and violence, as well as the medium of photography itself and how it's implicated in these problems. We celebrate: Yshao Lin, Massimiliano Corteselli, Antollini Otic, Alejandra Orjuela, Lyssa Harakis-Parish, Sumi Anjuman, Aaryan Sinha, Maki Hayashida, Anja Segermann, and Vavara Uhlik. Photoworks thanks all who put forward their work, and the selection panel who had the difficult task of whittling these projects down: writer and curator Sunil Shah, Seen Fifteen gallerist and Peckham 24 co-founder Vivienne Gamble, Photoworks writer in residence Tanlume Enyatseng, Photoworks curator Julia Bunneman, and Photoworks Editor Diane Smyth. Thanks also to Photoworks Digital Marketing Officer Natalia Gonzalez Acosta, who provided expert help on the day. This year the selection panel recognises two additional Highly Recommended artists: Andrew Awanda for his project LOVE IS THE MESSAGE, an energetic look at the queer scene in Baltimore, and Tim Rod for his series Don't Forget the Knifish, which explores the relationship he has established with his father, who he first met at the age of 26. We wish them, and all other 2023 graduates, the very best of luck for the future.
The Garden of Eden: Solar Equator depicts a real place in Banos de Agua Santa, Ecuador where the world divides into two hemispheres. It was made using a research-based, experimental anthotype process, designed as an alternative to toxic photographic traditions, and proposing a sustainable approach by using materials with living, regenerative materials. Spirulina, a biomass of cyanobacteria and microalgae, uses photosynthetic pigments such as carotenoids, phycobilins, and cholorphyll, for example, which absorb energy from light; the images shown here were recorded by using the photosensitive properties of microalgae as an emulsion, and the sunlight as a developer. In using these processes, Orjuela aims to question her position as a photographer and the environmental footprint of her work, and to reach for a "clean art". She hopes to start a conversation on the future of art, sustainability, and regenerative design, she says, providing solutions which will help fix the broken systems we have all inherited.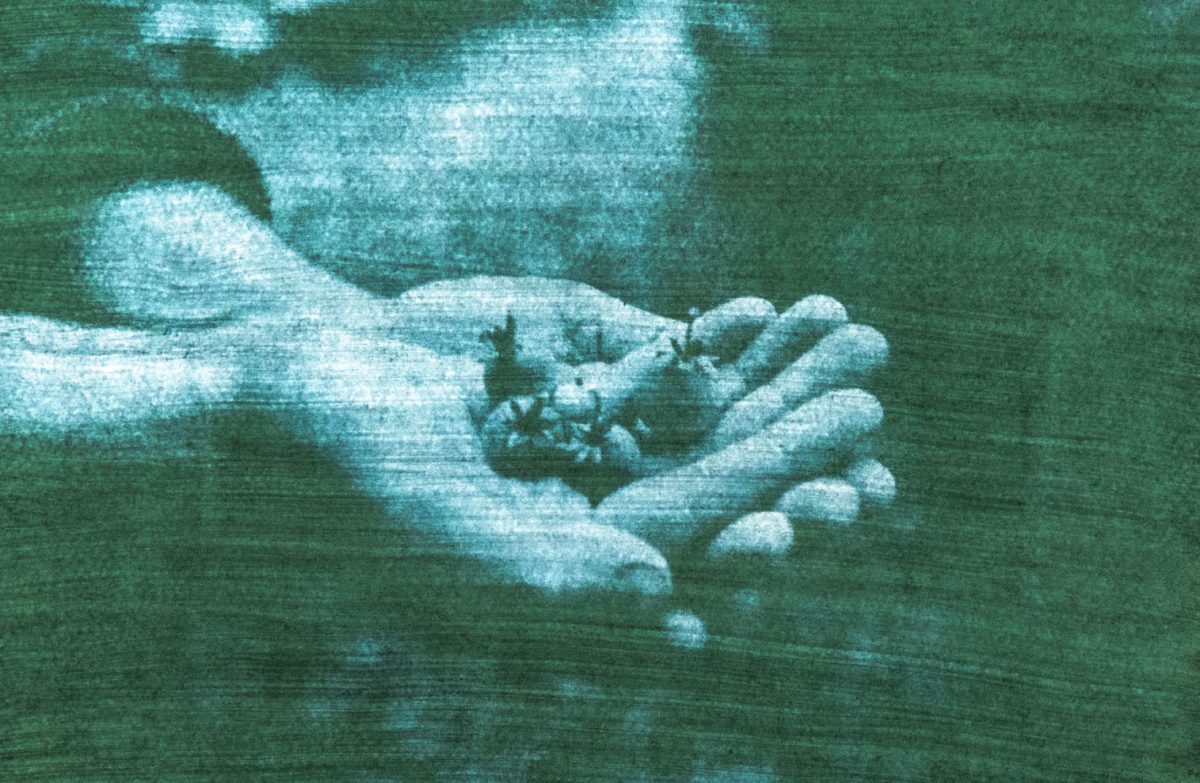 Alejandra Orjuela is a speculative Colombian filmmaker, photographer, and experimental artist, who works with biobased materials and alternative processes using analogue mediums. Orjuela is currently graduating from the CUN in Bogota, Colombia, and also holds a BA in Film & Media from CO; in 2023 she exhibited The Garden of Eden: Solar Equator in Der Greif's Past & Present exhibition in Munich, Germany, and published it in Future Material Bank, Netherlands and Analog Cookbook, USA. 
Find out more about Alejandra Orjuela here.