#15 Hope and Futurity
This issue of Photography+ — the first of the new year ­— focuses on hope. Following from our last issue on the Environment, an often bleak and despairing topic in the era of climate catastrophe, we are interested here in how photographers are imagining the future — how they are holding onto hope for a better future, unmarred by current realities of war, climate chaos, pandemics and vaccine inequality, and migrant crises. While a better future might, at times, seen unattainable, this issue explores how photography can help us trust in the possibilities of this future, giving us the hope we need to organise in service of a transformed world. How can photography help lead us out of apathy and despair by offering us a glimpse into this world? This is a question that the artists and writers of this issue seek to answer. Ricardo Reverón Blanco writes on Stacy Arezou Mehrfar's series, Down in the Forest, We Sing A Chorus (2020-21), touching on themes of isolation, hope, and the interdependency of nature. Clorinde Peters responds to Asia Werbel's photograph "Daughter" (2020) and explores motherhood, loneliness, and how we might build communities of care. Charlotte Flint looks back at the work of lesbian artist and activist Tee Corinne, arguing that Corinne's images of eroticism and desire between women inspire us to work towards the just future that we want. Our writer in residence, Tshepiso Mabula ka Ndongeni, explores the photographer Puleng Mongale, whose work invites Black South Africans to re-connect to ancestors and to a lost notion of home. In this issue's interview, Alun Be discusses his series Edification and the relationship between identity, inheritance, and the future. Finally, we are delighted to publish as our Community Submission Lixuan Guo's photograph, "Tomorrow's Wings," which celebrates the creativity and resilience of a new generation. We hope you enjoy this issue!
Images by Puleng Mongale
Text by Tshepiso Mabula ka Ndongeni
Johannesburg is a place where wayfarers and wonderers converge to meet the versions of themselves that are often kept hidden by the boundaries of home. It is a place of unknown and unseen euphoria, a utopia of sorts. Growing up, Johannesburg was not just a place­—it was a representation of the hopes and dreams of the wanderers who were brave enough to leave home and find greener pastures. In the village where I grew up, we would hear stories about how Johannesburg was a corrupted Gomorrah, a place where our fathers and uncles got lost, never to be found again. We heard it was a place where knife-wielding tsotsis and collar-wearing priests walked the same streets. I felt a sense of freedom in the city when I first moved here: I was only five years old, but I can still remember the thrill of the fast cars and the high-rise building that were much more vibrant than the tranquillity of the home I left behind in Lephalale. The violence of the city, its ugly chokehold on the Black and poor who live and work in it, was not yet clear to me.
My mother and I lived in Hillbrow, and she worked many jobs to make ends meet. I have a memory of us in that apartment building on Caroline Street. She was telling me about the massive scar on her face while we shared a plate of pap and canned pilchards. She spoke of how when she worked as a domestic worker, her employer's dog— which was trained against Black skin—pounced on her and scratched her face as she entered to clean their house and cook their meals. The memory of my mother telling me this story made me understand the violence of Egoli, the city of gold.[1]
It is this memory that also pulled me towards Puleng Mongale's earlier works. Mongale was born in 1991 in Orlando East in Soweto, where she lived with her grandmother and mother. She then moved to Naturena in Johannesburg South, where she lived with her parents and brother. Her artistic practice started with an ending: she left a career as a copywriter to practice as a digital artist. There is a sense of ancestry in Mongale's work, in her renditions of the matriarchs we often meet. When I first encountered her work, I was compelled to revisit her images and words many times while questioning the reasons it spoke so directly to me. In her digital collages one finds a vulnerability that is as brave as it is surprising.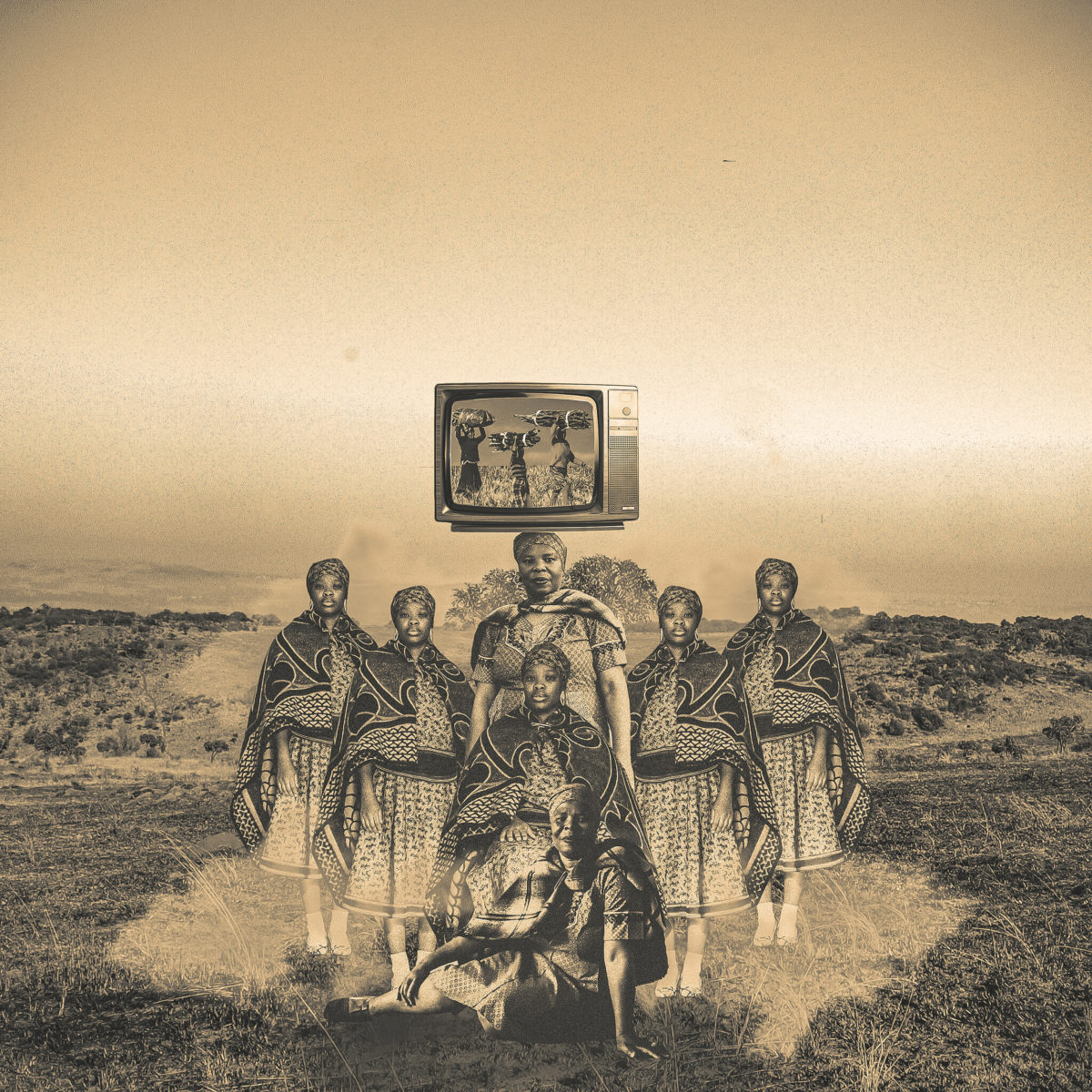 For instance, part one of Muleng's series Intimate Strangers is titled "When the madam is away, the help will slay."  Reading this title—and seeing the fictionalised images of domestic workers living their best lives during their lunch breaks—sent my mind back to the day my mother shared a piece of her heart with me. Seeing these images gave me a bursting sense of pride that I couldn't relinquish. As a child raised by domestic workers, I have often approached the subject with shame and embarrassment. I remember many times in my childhood when I vehemently embellished my mother's CV. I thought it was a shameful thing to be educated and clothed and fed by money from a madam's purse. While my mother found other jobs as I grew up, it is the one of domestic worker that left a permanent scar on her face.
A homage to women who are domestic workers, Mongale's images encourage a sense of empathy for Black women and for their experiences: they remind us of the women in our lives, both past and present, and ask us to embrace and confront their triumphs and struggles. Mongale does the delicate work of deconstructing the photograph, sewing past and present together while tenderly filling the gaping holes left by colonisation, displacement, and inequality.
The medium of photography so often compels its practitioners to consistently turn the camera outwardly. Mongale does the opposite, however. In her work we are reminded that there is a human eye behind the viewfinder—a photographer who is as human as we are, with imperfections, a point of view, and experiences of race and gender often erased in conversations about photography. The use of portraiture mixed with digital collage is the kind of disruption that perfectly suits a voice like Mongale's.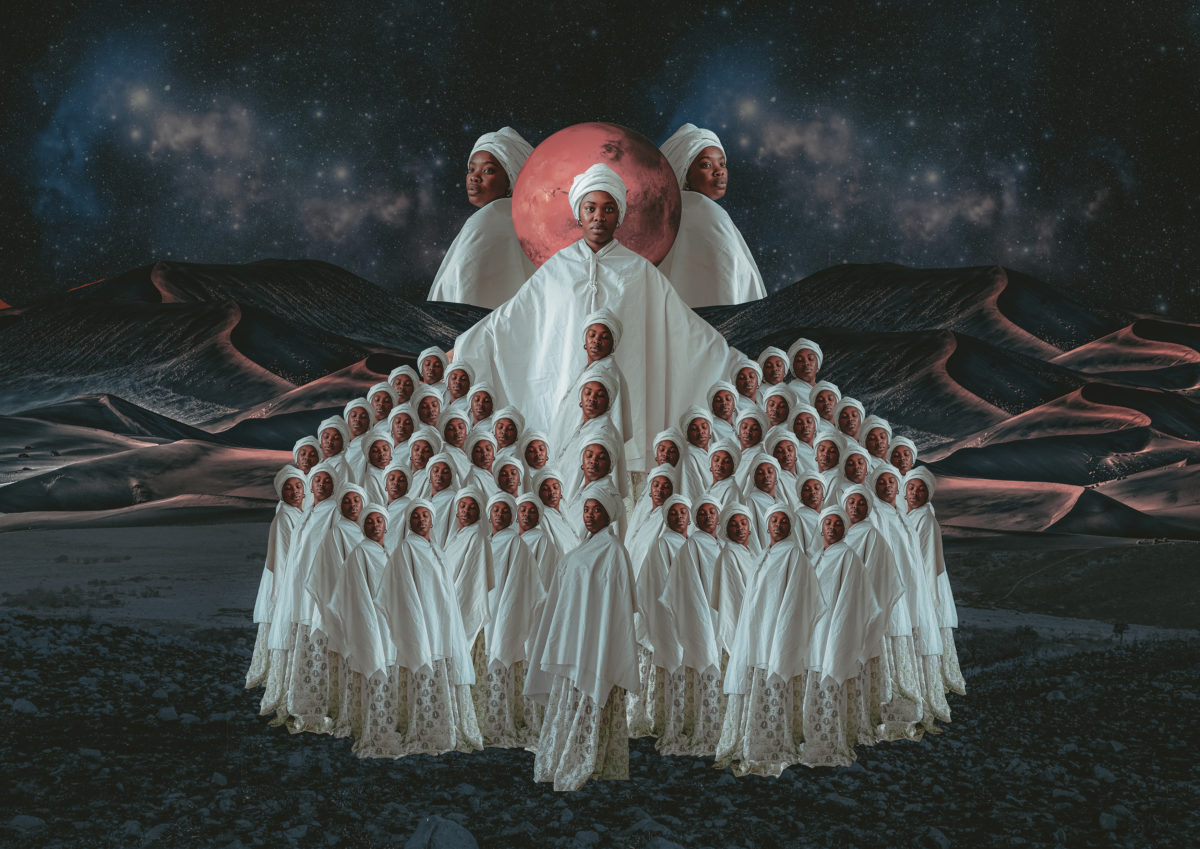 For instance, the subject of 'home' for Black South Africans is very complicated, shaped by the history of forced migration due to colonisation and apartheid. Many generations of Black South Africans are still traumatised by this displacement, having lost connections to our ancestors and their experiences. Mongale's use of collage and self-portrait almost emulates the way displaced people bridge the nostalgia of home with the newness of the places they travel. As I experienced with her series Intimate Strangers, we can find a connection to our ancestors, to our mothers, that fills the hollowness brought on by displacement.
The past two years have taught us that there is always uncertainty. Yet, the will to live and hope for the future is what pushes us forward. In Mongale's work, we can see that the will to live can be found in our connections to the past and in our ancestry. A key voice in the landscape of contemporary art in South Africa, Mongale understands and portrays our collective anticipation for a new and better world. This world, in which we know what it is to be truly free, already lives within us as part of our DNA. All that is left is for us to seek it, find it, and nurture it daily.  
[1] Egoli is the Zulu name for Johannesburg.

You can follow Mongale's work on Instagram @pulengmongale.