#21 Thingification
In 1950 Aimé Césaire published the essay Discourse on Colonialism, a blistering critique of colonial attitudes that helped found the négritude movement in Francophone literature and post-colonial studies more generally. The essay contains the formulation 'colonisation = thingification', an insight that directly inspired the latest Photoworks Annual, The Thing. Taking a look at series by contemporary artists, The Thing considers how photography 'thingifies' and how those using the medium can push back. This issue of P+ takes these ideas as a starting point and includes an introduction to the themes and artists included in Photoworks Annual #30 – The Thing. But it also includes new articles and interviews. Photoworks writer-in-residence Tanlume Enyatseng has interviewed Kwazokuhle Phakathi, for example, a South African artist whose series Almost Everything Has Happened considers how xenophobia and division are sown in southern Africa, via contemporary TV imagery but also attitudes entrenched during the colonial period. Meanwhile, Rachna Shetty from the MAP Academy in Bengaluru considers images made by the colonial powers in 19th century India, and what they say about these powers' worldview and about photography. Elsewhere, Brasilian photographer Emilio Azevedo discusses his series Rondônia, which shows how photography has been used to physically and also mentally impose a certain perspective on the Amazon, while Kirsty Mackay talks through The Magic Money Tree, a project on those subjected to poverty in the UK which uses collaborative approaches and guaranteed anonymity to avoid 'thingifying' those it shows. Finally, Photoworks Learning and Engagement Consultant Juliette Buss and Photoworks Curator Julia Bunnemann discuss how the organisation has been evolving in order to collaborate with neurodivergent artists. 'Do you think we can say that Photoworks is anti-thingification?' Buss asks at the end of their conversation. 'We at least try,' Bunnemann responds. Diane Smyth Editor
Each issue we ask the Photography+ community to submit photographs, and this time we asked readers for work relating to the theme Thingification. We are delighted to publish the selected image, Model with Mock Suns by Julie Sando.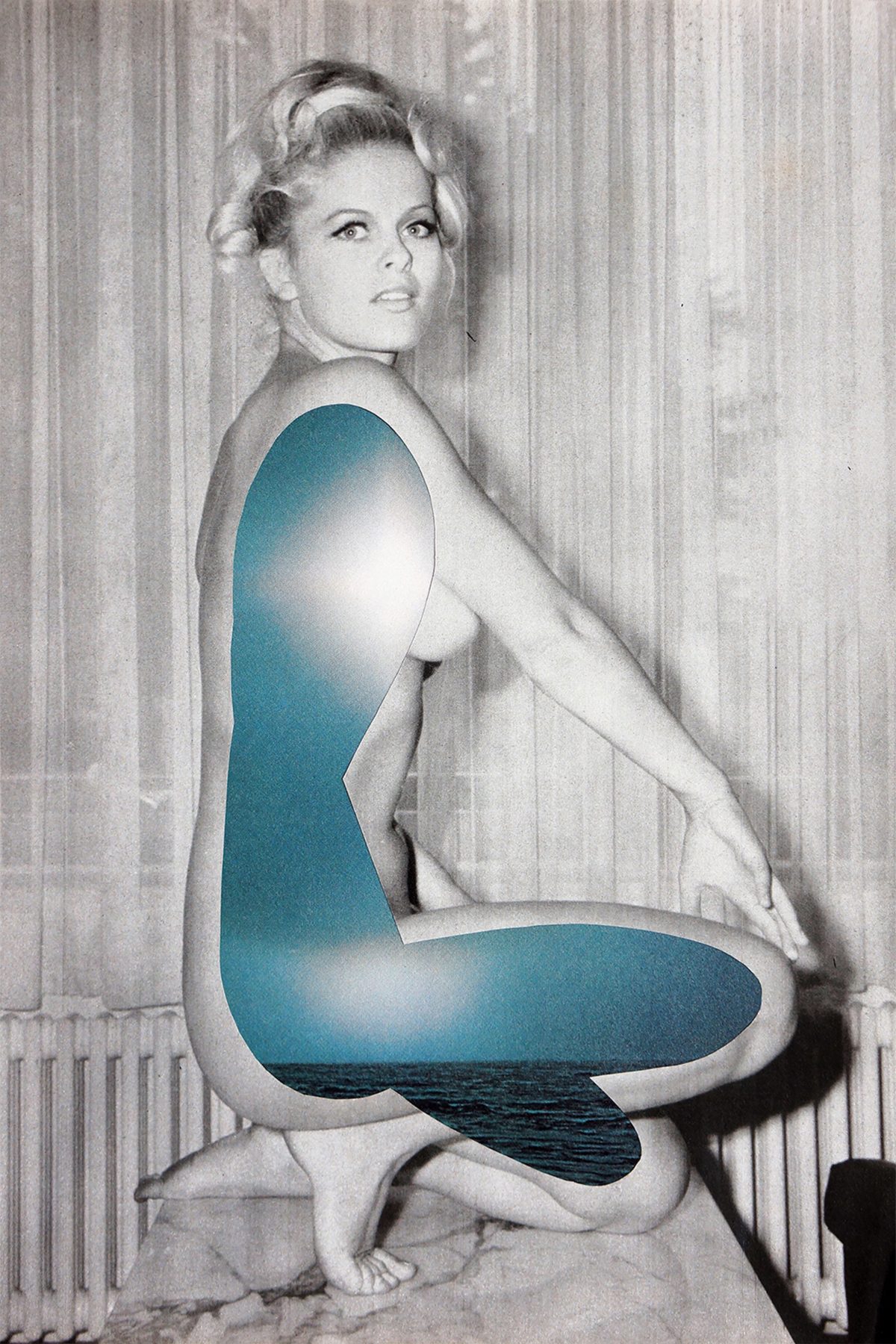 Sando made this photo-based collage in 2018, at a time when the #metoo social movement had raised awareness of the sexual violence people experience throughout their careers. At the time she was working with vintage print ephemera from the 1960s – 80s, working with images from the natural sciences and erotica and thinking about the impact of small nuances of gesture, light, and colour on our perception of any photograph. On seeing this model's expression, she felt compelled "to offer her a cloak of some kind", she says.
Sando, who is based in Canada, adds that one of her original source images depicted a model posed on what looks like a marble countertop – a juxtaposition that suggested to her a connection between what is considered "classical", "figurative", and "nude", and how those "things" have been displayed in museums. Through her creative projects, Sando aims to highlight the myriad ways in which popular media presents discriminatory attitudes; her projects include a series on pantyhose packaging and a dystopic science-fiction based satirical film.
An adjunct assistant professor in the School of Creative Arts, University of WIndsor, Sando has taught photography, design and visual culture for over 20 years. Her role at the university includes working to remove barriers to education for Black Indigenous, LGBTQ+ and female students, as well as those facing challenges relating to income, faith, culture, mental health, and accessibility.