#11
This new issue of photography+ takes a closer look at the practice of three women artists - Mónica Alcázar-Duarte, Lucia Pizzani, Xaviera Simmons - all of whom have been working towards exhibitions or making new bodies of work during lockdown. We hear from Mónica Alcázar-Duarte, describing in her own words the motivations and connections which weave through her practice. Lucia Pizzani talks us through her new body of work Acorazadas, and we dive deeper into the upcoming exhibition of Xaviera Simmons, as part of the Liverpool Biennial. We reflect on community with curator Ricardo Reverón and artist Eva Louisa Jonas who look back on their recent experience working together to create safe and creative spaces for LGBTQ+ communities. We are also very happy to welcome Tshepiso Mabula, our writer in residence for 2021. Based in Johannesburg her first text introduces her environmental and photographic influences growing up in South Africa.
Interview by Nicola Jeffs, Photoworks.
Lucia Pizzani (born 1975) is a Venezuelan artist based in London. Her work addresses ideas of gender, body and nature, and incorporates a mixture of photography, performance, installation, sculpture and video. Drawing on references and ideas from the Surrealists and the body art of the 1970s, as well as practices from both Europe and South America, her images comprise a rich variety of aesthetics, cultures and histories.
One year on, I spoke to Pizzani about a new series of works that she made during the first lockdown in London.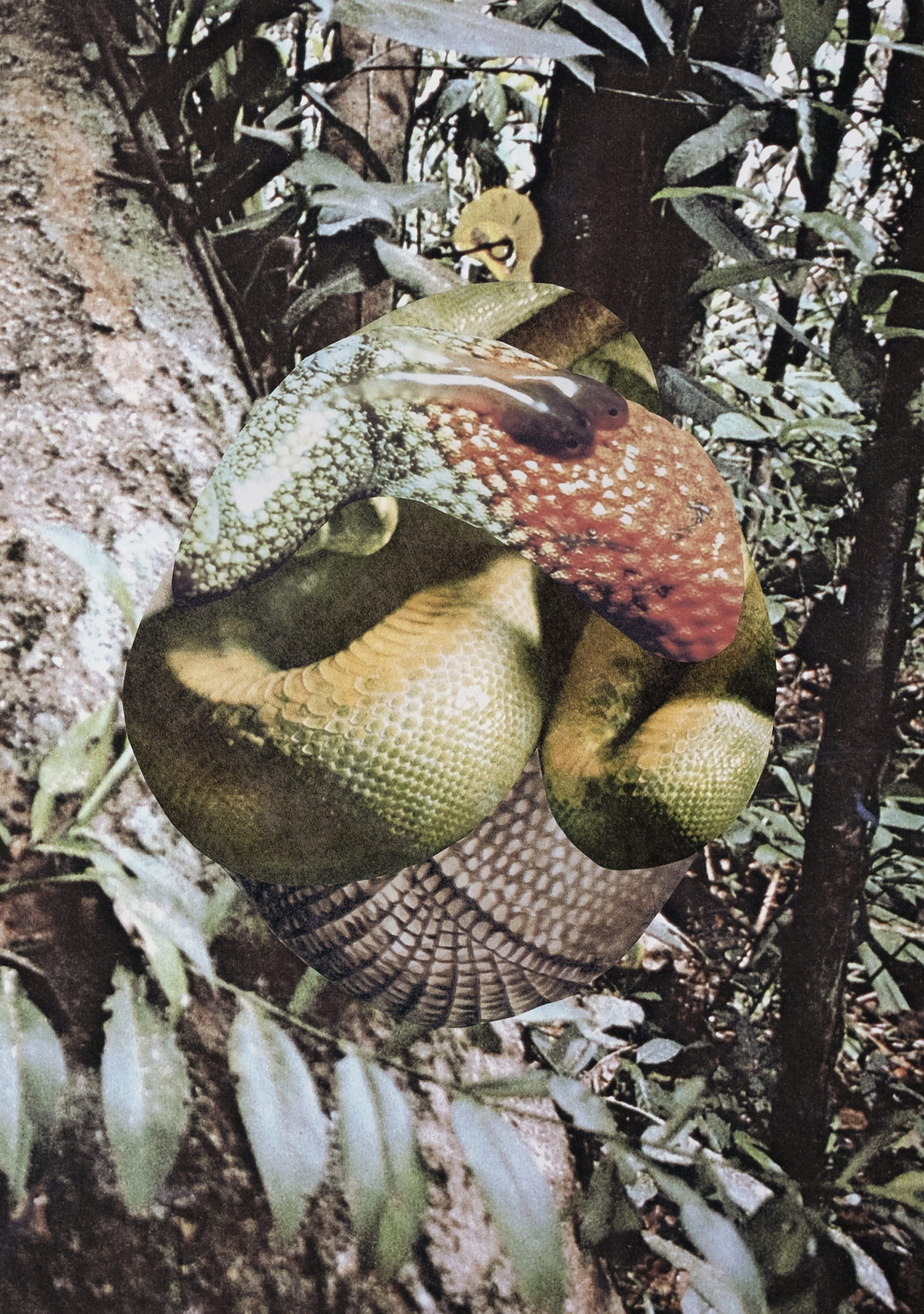 You made this series during the first lockdown in London, in spring 2020. Can you tell us a little bit more about how this work came about/developed?
For years I have been working around the idea of a second skin, an outer layer that protects us from exterior threats. It started with my ceramic work: I textured the clay with a snakelike feel. Then I also photographed the sculptures placed on my body. After that, I started doing photograms with actual snakeskin, the one they shed after moulting, a transparent membrane that retains its texture.
When lockdown started last year, I had been collecting old magazines and publications with photographs and illustrations of snakes and other animals that have amazing skins and armours. One of the animals that I had chosen was the pangolin. When news started to point at this creature as a carrier species of COVID-19, I felt the urge to respond. Zoonoses are caused by habitat destruction and animal trafficking – it's not simply about a customer eating a bat on a wet market in Wuhan. I focused on the idea of nature as a refuge. It is a fact that the forests and their diversity absorb viruses. The pandemic is a consequence of the current planetary environmental crisis.
My initial approach was to integrate these images [from the old magazines] in a video that would also include my ceramic sculptures and the human body, juxtaposed with fauna cut-outs. As I couldn't have other people in my studio to produce a video, I started to experiment with collage. This solitary process was the only possibility during the lockdown. This series came out of many days spent in the studio, scanning, printing and hand cutting. Only months later I was able to produce a moving image piece. Titled Manto (Mantle), it is a single-channel video with original music by Venezuelan composer Miguel Noya.
Your work often takes on many different forms, such as sculpture, performance, photography, and now collage. What drew you to the medium of collage at this moment in time? And have you made much collage before?
Most of the time, regardless of the medium, my practice uses my body and different materials or surroundings, not so much pre-existing images. But as my production is very much research based, I have done collage works when the source images have a potent symbolic charge. This is what happened in the Āmatl series I did in Mexico. I had been making an inventory of snakes' images by photographing them anywhere I saw one – it could be on a statue, lamp post or on a building door – and when I travelled to Mexico to exhibit there, I saw snakes everywhere!
The ideas of renewal and transformation that this animal embodies, made it the perfect imagery to be used in my work, so I selected a few photos from the inventory to be integrated on an assemblage.
I printed them in lo-fi laser quality, hand cut them and then photographed them on a textured fabric. Then I inkjet-printed those digital images on the amate paper, a traditional handmade Mexican paper used by Mesoamerican civilisations to inscribe their codices, a type of folding book made by the Maya. I was also drawn to that material as it was made with local tree bark, the tree's skin.
What does the title of the series, Acorazadas, mean?
My initial interest in armouring a body and looking into animals that have that protection was in response to a long violent crisis in Venezuela, my country of origin. I have been living in London for almost 15 years, but I had been going back and forth, visiting family and exhibiting and producing work in Caracas and Margarita Island, until the crisis there reached a new low. I haven't been back since 2016. A few years ago while doing an artist residency in Mexico City, I started to look into how the Aztecs lived in a permanent state of war. It was then that I produced an entire body of work that culminated with an exhibition there and in London titled Coraza (Armour).
These collage series revisit the human fragility present in the Coraza project, but this time from an ecological perspective, building on my background as an environmentalist. I worked for many years in an NGO in Venezuela in projects with scientists and local communities from the Amazon to the Andes.
I think art always has many lectures to give; the audiences see a wide range of ideas, regardless of the artist's intention. Nevertheless, this combination of forests, armoured animals and a human body suggest interconnectivity, a web that makes life possible.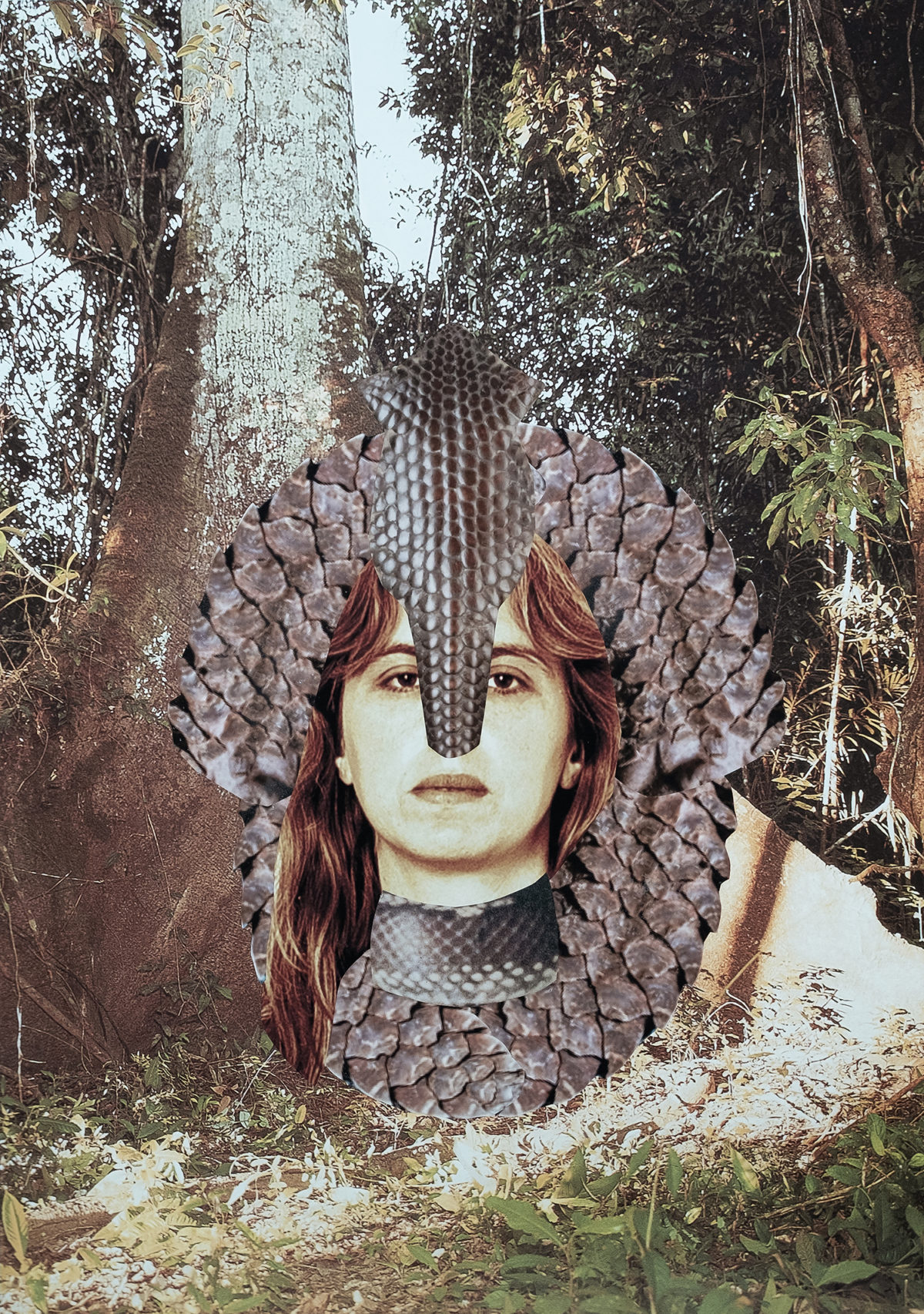 Can you give us a little detail on how and why you combine your self-portraits with the images of the pangolin? What does this then do to both images when they are combined?
The first collage I made was an overlap of pangolin and armadillo. This creature took the shape of an egg or embryo to refer to birth, the creation of life. From then onwards I introduced amphibians, reptiles and a beautiful mangrove tree that I photographed at La Restinga wetland on Margarita island. All of these species and ecosystems send signals of human disruptions. For example, the hypersensitive skin of amphibians is an indicator of temperature rise, or terrible floods can be caused by the destruction of wetlands.
After the first group of collages was finished, I started to introduce the human element. My thoughts took me to a time when there was no separation between humans and nature, and I wanted to recreate that wholeness. By using self-portraits within the image I could also make it personal, and I allowed myself to feel nature's embrace. This process brought to life new multi-species creatures. There is a warrior pangolin–woman inhabiting the Amazon, a spiky iguana–human dreaming in the humid forests of Choroní and a crocodile–pangolin–person living amongst bromeliads. In the last, the Pangolin is like a breathing mask, a new body-part developed by an imaginary evolution.
What is the one thing that has shaped your practice, and what are your influences? Are there themes you continue to come back to?
I was raised in Caracas in a family of artists. My mother is a visual artist working with video and dance, and my father is a painter's painter. Since an early age, I was very much involved in the arts, attending contemporary dance classes and taking part in my mum's videos. This early awareness of the body contributed to it being a central theme in my practice today. The first artworks I produced were fungi macro-landscape photographs taken in the forest where my father lived. Then I jumped to self-portraits and, after some time, guided by a growing feminist interest, I turned to historical research on gender inequality. After I moved to London, I learned more about the Victorian era. It was particularly appealing to me the way women were fighting to become citizens with equal rights. Over the years I developed works about outstanding women of that period.
The first project, titled Orchis (2012), drew on the Suffragettes attack on the Kew Gardens orchid house. Then by 2015, in A Garden for Beatrix, I paid tribute to Beatrix Potter and her findings of fungi. The central piece was a seven-metre-long mural of porcelain sculptures juxtaposed on paper cut-outs of fungi textures. The following year, I produced a giant cyanotype mural made out of health products that were scarce in Venezuela back then, all inspired by Anna Atkins's work. Titled Inventario Personal (2016), it has been exhibited in Caracas and in London at a show in Photofusion, Brixton, in 2017. For that project I received an ACE [Arts Council England] grant for the arts, and was able to invite Venezuelan photojournalists to show their images, and at the same time activate the local community through workshops and talks.
My work responds to the current crisis but also looks into the past. A dialogue between the self, corporeality and nature keep coming back in my practice. One way this happens is working with ceramics, because of the connection I feel to an ancient material that comes from the soil. Other ways are related to research with a multimedia outcome. Above all, I keep myself open to the flow of energy and ideas the world offers. From a fungi spore to a vast forest, and from the past to present times.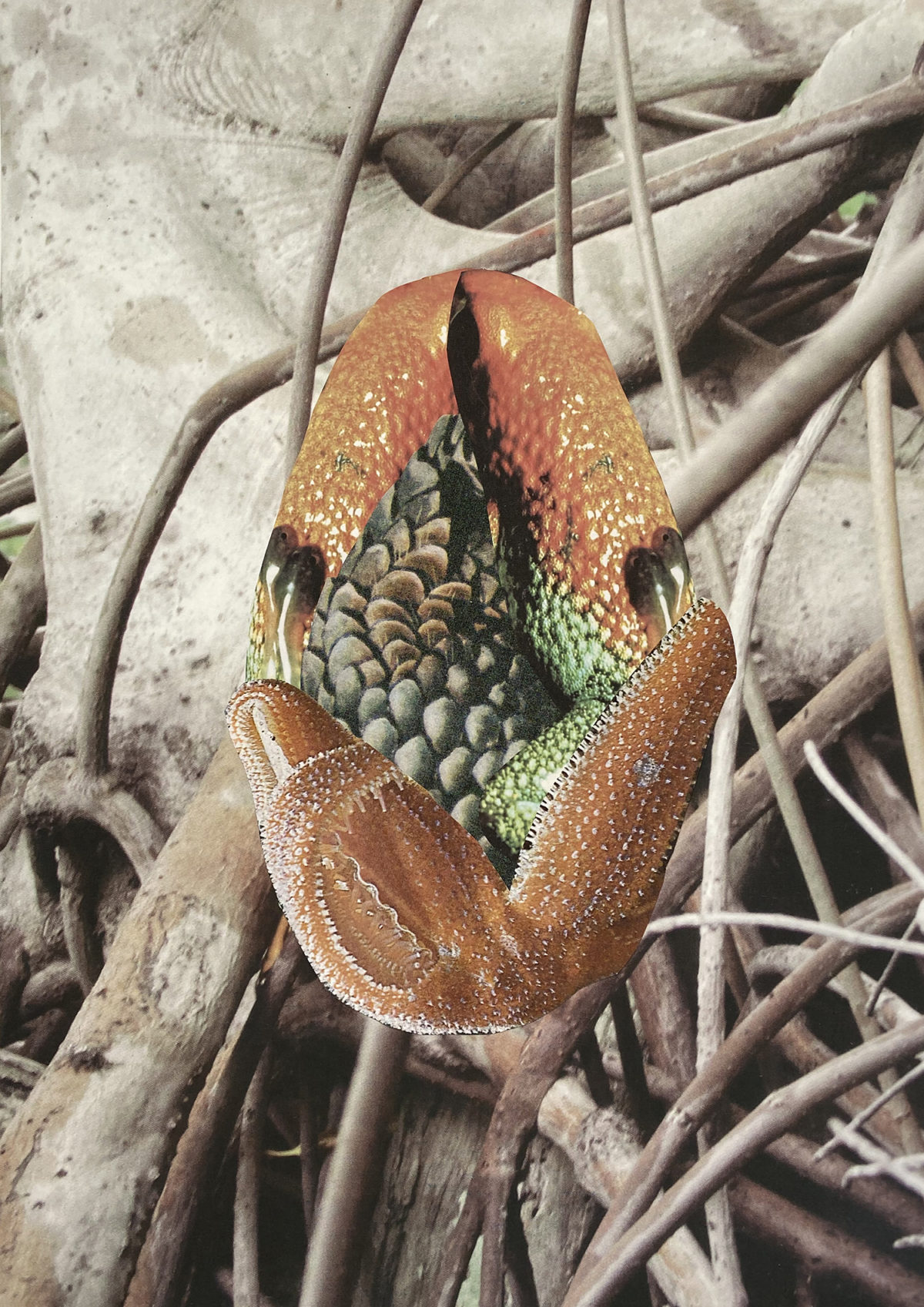 What are you currently working on? Is there anything coming up that we can see, or what are your next plans to make work?
During this third lockdown I have been working on a new series of drawings with raw clay on paper. I had the opportunity to do the Launch Pad LaB artist residency last fall, and started this work there. After visiting prehistoric sites, I delved into the first manifestations of material culture found in pottery. This inspired the Clay Drawings. A selection of these works is now in a virtual exhibition, on the Vortic.art platform with Cecilia Brunson Projects, as part of a project titled Female Voices of Latin America. It features artists from that part of the world presented by local and international galleries and museums.
I am also exhibiting at the Museum of Latin American Art (MOLAA) in Los Angeles. As they are closed, they have the show online to be navigated virtually. Titled Herland: Women artists of the MOLAA Collection, the show includes artists such as Leonora Carrington, Doris Salcedo and Tania Bruguera. I am showing a photographic diptych from 2007, that is part of the Absent Portraits series. At the time I had just moved to London to study at the Chelsea College of Arts [then called the Chelsea College of Art and Design].
In my future plans, there is another trip to Mexico. I have been invited to do the Casa Wabi artist residency in Puerto Escondido. I will be there in June and July, working with the local community. This foundation was created in 2014 by Mexican artist Bosco Sodi on the Oaxaca coast. Its main site was designed by architect Tadao Ando. Here I am looking forward to developing a project about the species of plants found in the area with local participants, working with ceramics and photography.