#13 The Graduate Issue
After another challenging academic year where many photography students were taught remotely and faced limited access to campus and facilities, we celebrate the work of ten graduates from around the world. Jodie Bateman, Lina Geoushy, Matt Hind, Lena Holzer, Wing Ka Ho, Esther Gabrielle Kersley, Marianne McGurk, Ryan Prince, Agnieszka Sejud, Felix Schöppner.  The selected projects reflect a range of ideas and experiences, from personal projects born out of lived experience to work tackling current social and political issues. Special thanks to the selection panel including; Natasha Caruana, artist, lecturer and mentor, Daniele de Luigi, Curator Giovane Fotografia Italiana, writer and critic, Ian Howarth, Photographer and Content Creator MPB, Tshepiso Mabula, Photoworks writer-in-residence and photographer, Maryam Wahid, artist and lecturer, and Julia Bunnemann, Photoworks Curator. A huge thank you to our sponsors MPB and print partner Spectrum Photographic for selecting four lucky graduates to support with kit loan and a printing voucher.
My Hijab has a Voice: Revisited
Jodie Bateman's My Hijab has a Voice: Revisited looks beyond the stereotypes and general perceptions of Muslim women that circulate in the UK. By letting the protagonists of her photographs press the shutter release, Bateman empowers her sitters and invites them to direct how they present themselves to the outside world and take control of their own narratives.
Bateman converted to Islam in 2017, and so her investigations of the experiences of Muslim women are autobiographically informed. She is determined to tell authentic stories: 'Due to the lack of authentic voices being heard, negative stigmas and stereotyping are perpetuated in the media … Western society continuously feeds the stereotype of oppression. This is typically followed by acts of banning: the niqab, burkinis – and even going to the lengths of banning the hijab in professional places in some countries.' Bateman contradicts these perceptions, taking inspiration from how women have been represented – and objectified – in famous historical paintings.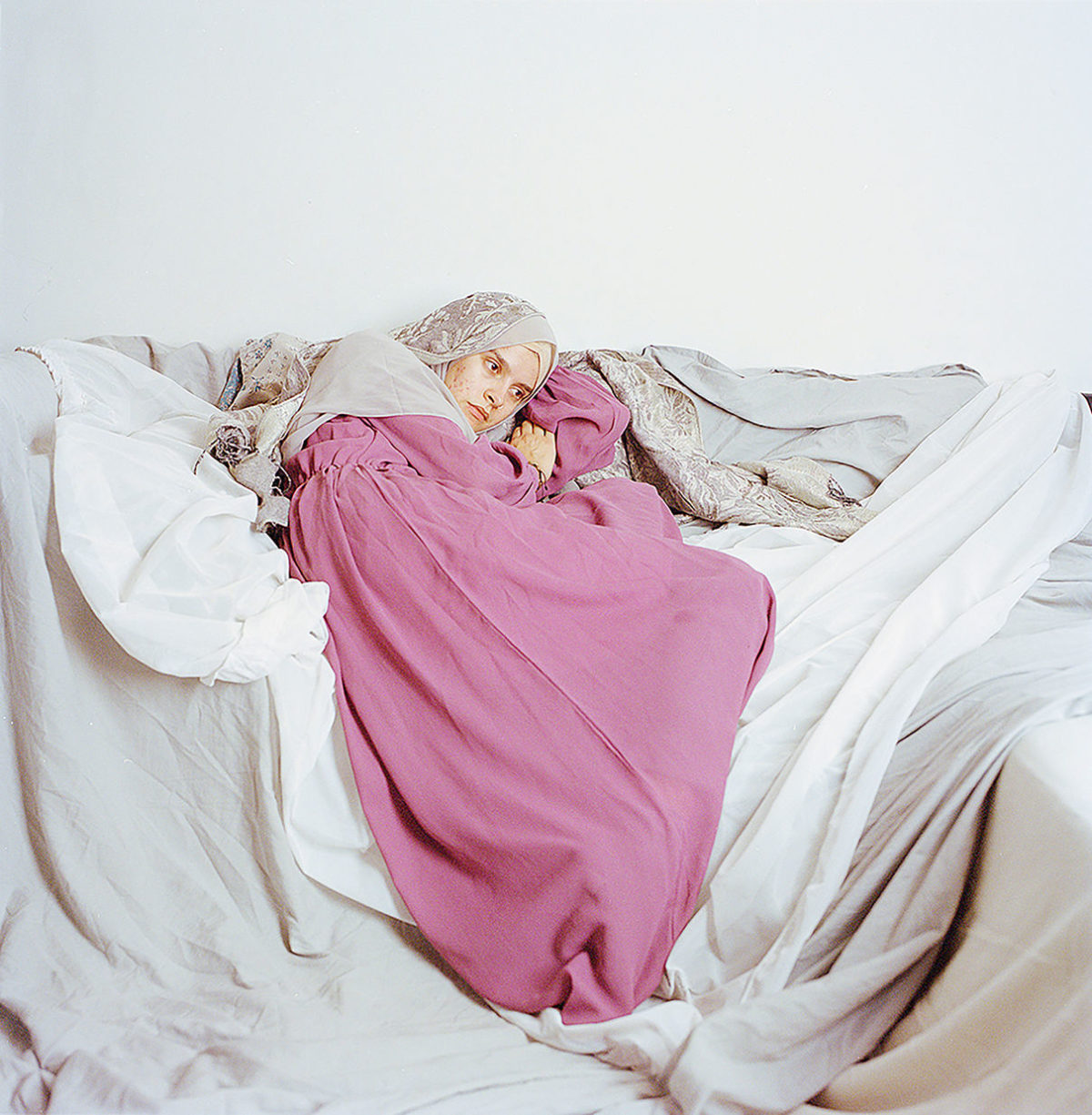 Jodie Bateman (born 1995) is a fine-art photographer who was born and raised in South London. After moving to Godalming in Surrey, her work began to focus on her presence as a Muslim woman in a small English town. Bateman graduated with an MFA in photography from the University for the Creative Arts Farnham in 2021.
Jodie received a MPB kit loan and received special mention from Ian Howarth (MPB): 
Jodie's work stood out for the dynamic between the artist and the finished work. As a concept, it made them an intrinsic part of the work yet care was taken not to make the artist the central part of this difficult conversation. The images were well executed and the use of the shutter release cable helps bring these images closer to reality rather than just representation.