#13 The Graduate Issue
After another challenging academic year where many photography students were taught remotely and faced limited access to campus and facilities, we celebrate the work of ten graduates from around the world. Jodie Bateman, Lina Geoushy, Matt Hind, Lena Holzer, Wing Ka Ho, Esther Gabrielle Kersley, Marianne McGurk, Ryan Prince, Agnieszka Sejud, Felix Schöppner.  The selected projects reflect a range of ideas and experiences, from personal projects born out of lived experience to work tackling current social and political issues. Special thanks to the selection panel including; Natasha Caruana, artist, lecturer and mentor, Daniele de Luigi, Curator Giovane Fotografia Italiana, writer and critic, Ian Howarth, Photographer and Content Creator MPB, Tshepiso Mabula, Photoworks writer-in-residence and photographer, Maryam Wahid, artist and lecturer, and Julia Bunnemann, Photoworks Curator. A huge thank you to our sponsors MPB and print partner Spectrum Photographic for selecting four lucky graduates to support with kit loan and a printing voucher.
Shame Less
In Shame Less, Lina Geoushy focuses on experiences of sexual harassment shared by women in Egypt and across the world. In 2013, the UN conducted a study which showed that 'virtually all Egyptian women have been victims of sexual harassment'. In Egyptian society, verbal harassment is not viewed as harassment as such, but rather is considered a flirtation of sorts. In addition, many women feel discouraged from reporting incidents of harassment to avoid being shamed or blamed. Shame Less is a collection of sexual harassment stories told by Egyptian women that not only sheds light on a persisting awful status quo that affects women worldwide but also attempts to reverse the stigma by placing it instead upon the perpetrators of abuse.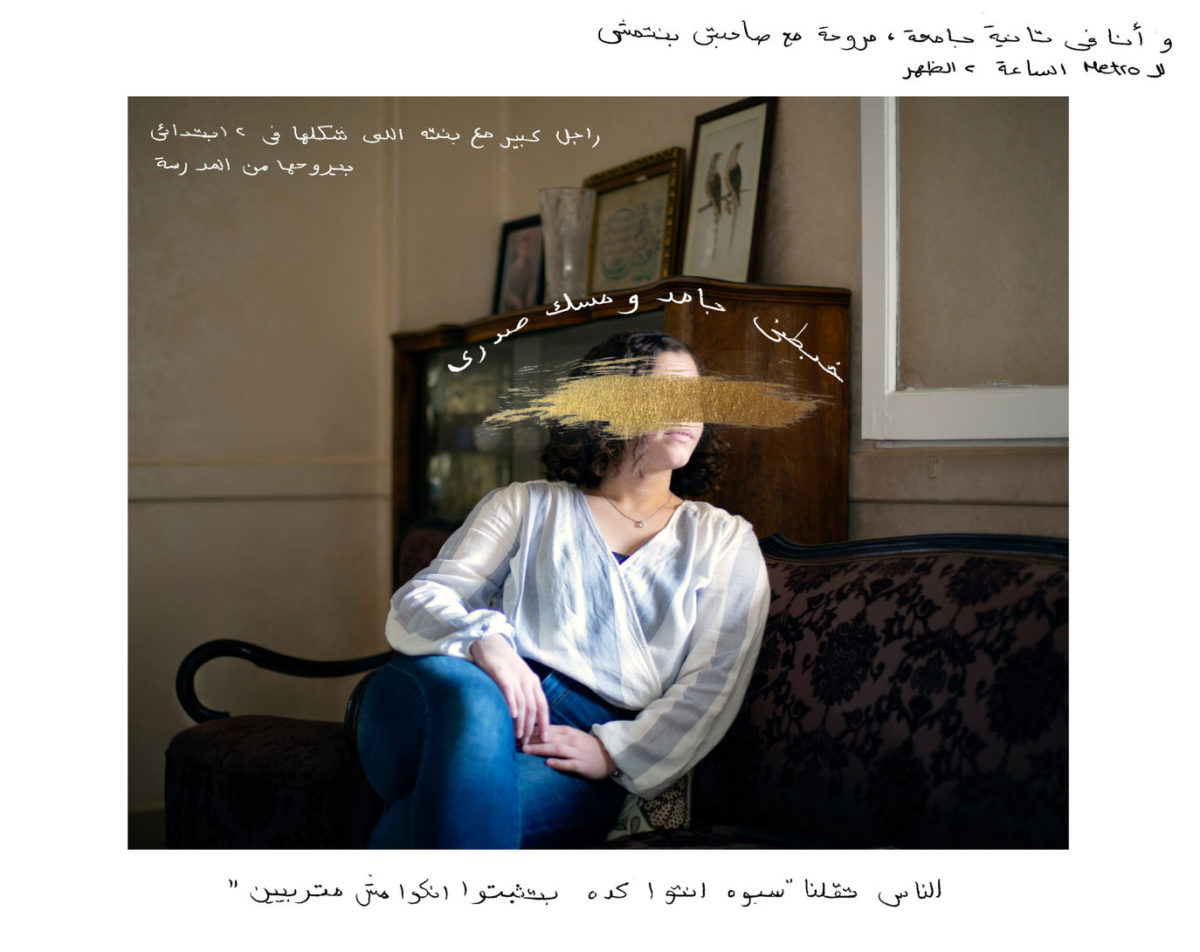 Lina Geoushy (born 1990) is an Egyptian social documentary photographer living and working between London and Cairo whose work explores gender, female empowerment and sociopolitical issues. Geoushy draws on her previous experience in communications and psychology to tell stories that deconstruct and question public perceptions of the prevailing power of patriarchy. She will graduate from the MA Photojournalism & Documentary Photography at London College of Communication in 2021.
Lina Geoushy received a special MPB kit loan.