#16 Street
Photography+ Street focuses on urban environments that surround us and the communities that use them. Launched to coincide with the announcement of
Picturing High Streets
a digital mass participation partnership project between Photoworks and Historic England. The street has historically been a site for studies of social life and the photographic medium has served to capture the lives and relationships of the communities that inhabit them. These elements are explored by the artists and writers of this issue. Featuring work by artists and partners from Picturing England's High Streets,
Liz Wewiora
offers a comprehensive argument that we are in fact the portraits of our High Streets. For this issue, we have invited two of our current six Picturing England's High Streets artists in residence to discuss their journey thus far making work. Artist and Curator,
Tim Mills
, explains the importance of the high street as 'the beating heart of a place' and shares his approach to creating work in Coventry. Whereas
Lucy Hunter
tells us about the work she has been doing with a group of children from Prescot Primary School to explore ideas of portraiture, perspective, and place. Looking further afield
Ricardo Reverón Blanco
examines
Marcello Coslovi's
ongoing body of work to determine the role of abstraction in documentary street photography. Finally, we are delighted to publish as our Community Submission
Roxana Savin's
image taken in Sibiu, Romania that is part of a larger project investigating how the local society and culture identify themselves in a shifting system of globalising cultural trends. We hope you enjoy this issue!
Could you explain your practice and how you work in a few  sentences? 
Community and the spaces that bring people together are often at the heart of the work that I make. I believe that feeling a part of something can make a life-changing difference to people in developing an awareness of identity and belonging. This helps to build esteem and a sense of self.   
Much of my previous work has been documentary, and while I continue to pursue this, since moving to Liverpool in 2019 and my involvement with Open Eye Gallery, I've developed a keen interest in socially engaged photography. I've been lucky enough to work with several communities, making work together and sharing our perspectives through photography. 
Can you tell us about a project that you have worked on as part of Picturing England's High  Streets  
I have been working with a group of children from Prescot Primary School, which is an Apple Distinguished School, meaning that every child has their own iPad to support their learning. Upon hearing about the project, the school was keen to be involved and an after-school club was formed, comprising eleven students. Using iPad cameras, we began to explore the ideas of portraiture, perspective and place.  
Initial sessions focused on basic concepts in making pictures and our experience of Prescot High Street, including an initial trip there. The children were encouraged to explore the space and capture images that told a story about the high street. Due to time restraints and logistical challenges, it wasn't possible to visit the high street on more than a couple of occasions. We decided to use this challenge to our advantage and consider how we might bring the high street to our sessions without physically going there. The children drew their own panoramic high street, reimagining the space and creating their own design. We also explored light projections, using the children's photographs of a trip to the high street. They then repositioned one another back into the projections, playing with light, shadow and movement.  
In our ninth session, we revisited the high street. This time the children's approach seemed quite different, and their confidence had grown since the initial visit a few months before. With their new knowledge and experience, they were more ambitious. 
Over the course of the sessions, themes around textures and layers emerged. Through their work both individually and collaboratively, the children have created a multi-layered portrait of a high street, sharing their own experience and perspective of the area. In doing so, they have repurposed the space, using it not only as a source of inspiration but as a newfound playground.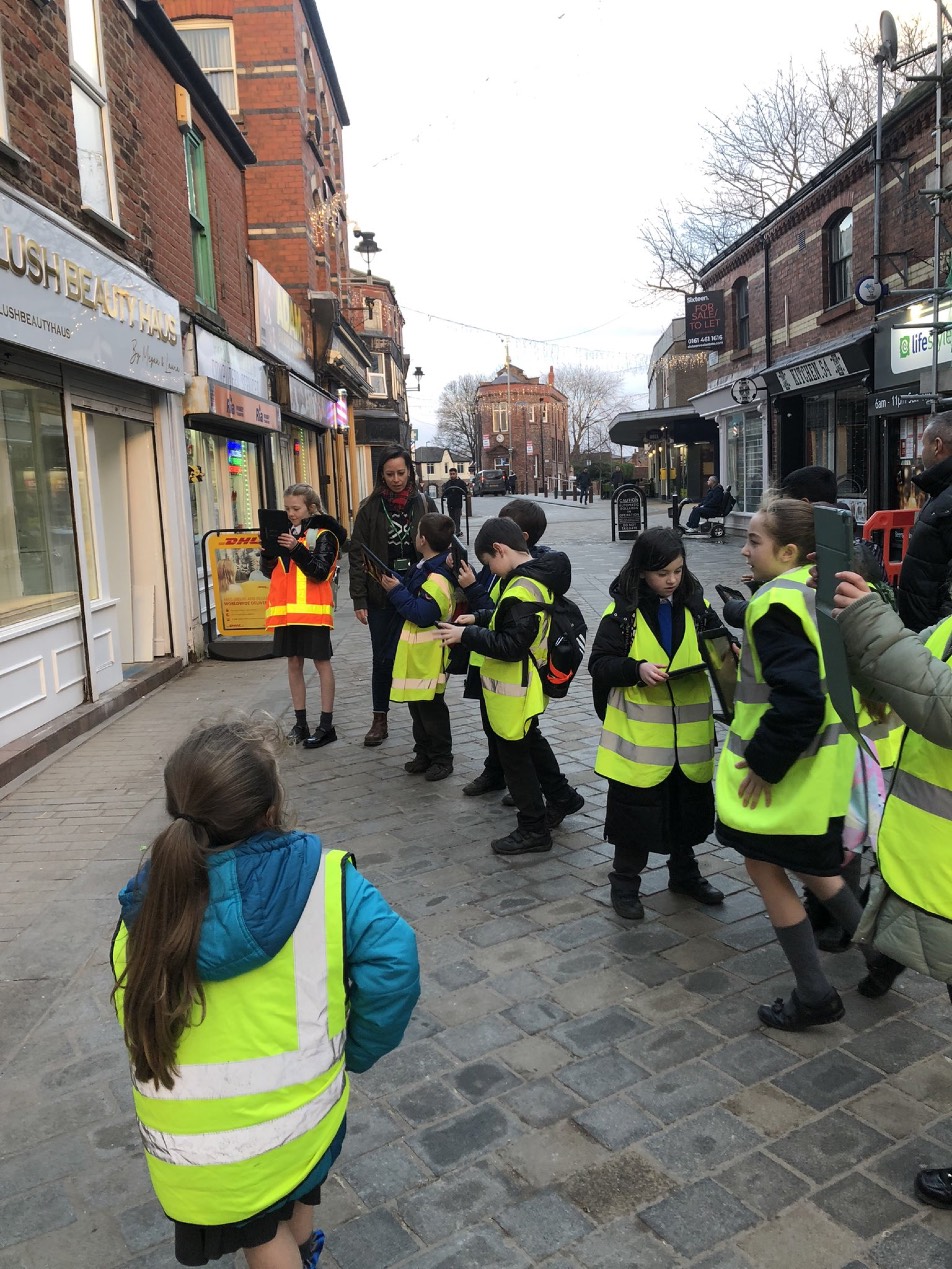 Why is photography important to tell stories within your practice? 
In terms of socially engaged work, photography offers a way to articulate ourselves though a visual language. Making photographs and being involved in the process allows expression, enables connection and can provide new insight into the way a place is viewed. In the case of Prescot High Street, the children have been given the space to showcase their high street and offer a new and playful perspective. Through images we can show the emergence of positive development and change, reinforcing the foundation for regeneration.  
Where do your ideas begin? 
When researching a new project, an important starting point for me is having conversations. In speaking to locals from all generations, we get a wide-ranging perspective of a place. On the Picturing England's High Streets project, I have learned how exploring the past and people's memories can build a solid foundation. Being able to speak to locals was vital to understand people's relationship to a space and how they view it. With socially engaged practice, it's important to keep an open mind about what direction the work may take and to allow the group to develop their own ideas and thoughts. The challenge of not being able to visit the high street forced us to consider new ways of working, which led to our own hand-drawn high street and the image-projection ideas. The children were enthusiastic about these sessions, and I was so impressed by the way in which they took ownership of the images they wanted to make.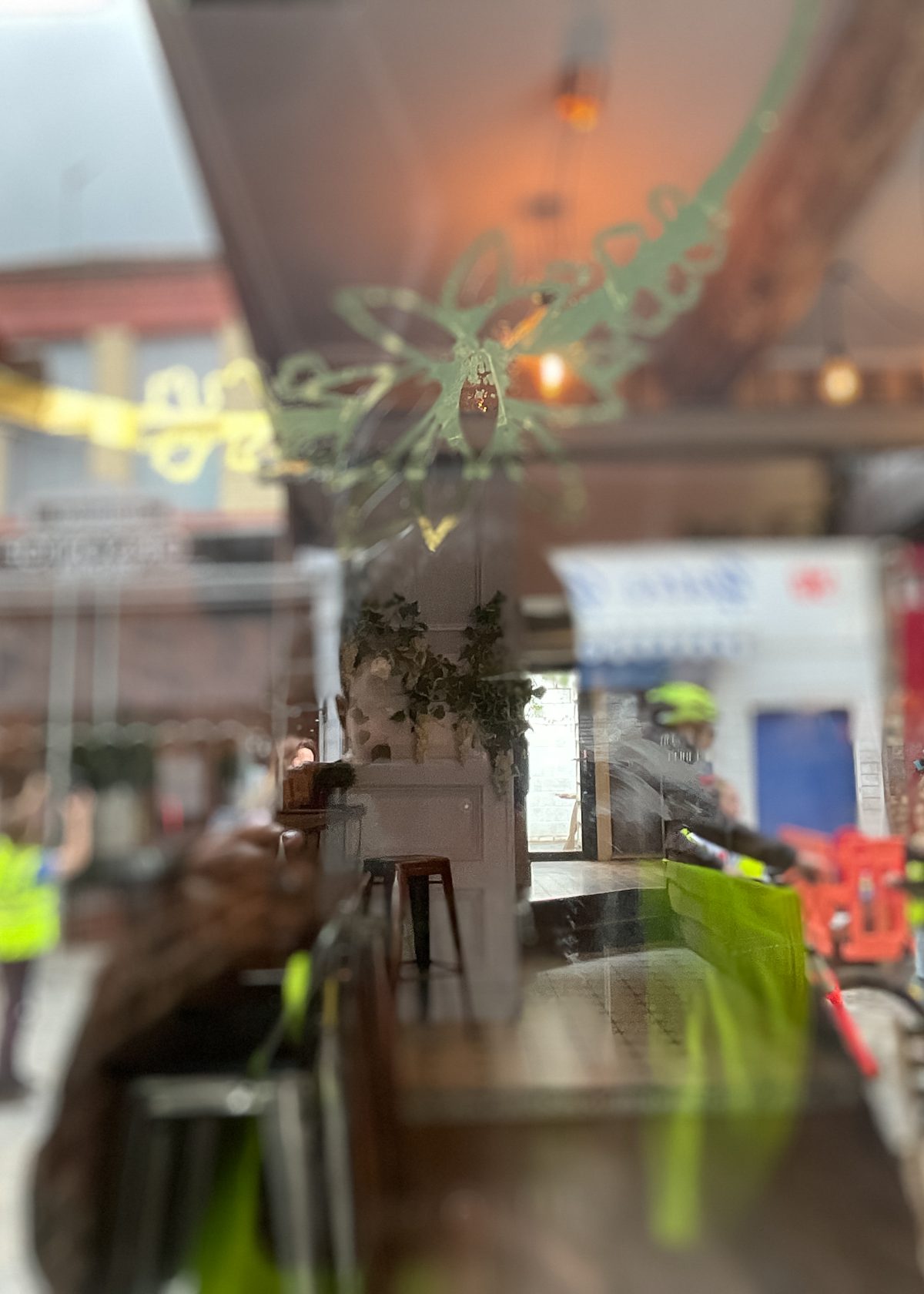 What is the importance of the high street to you?
I used to live just off Whitechapel Road in Tower Hamlets, London, where the buzz and energy of the high street was in full force from early morning until late into the evening. My first project that I undertook as part of my MA was situated there. I wanted to challenge the idea that people are too busy or reluctant to engage with one another and connect. I set about talking to strangers and making portraits. No matter what the time of day, I always felt safe and part of a community. Through my research, I've become ever more aware of the decline of the UK high street and the challenges it faces. We need to reconsider the role of the high street and remember its importance, not just as a retail space but as a social place where we can connect with our community. If the high street dies, so too does the common space that brings people together and allows us to look out for one another.
What impact do you think the project will have on its participants and audience?
I hope that the participants will continue to look more closely at their surroundings and consider new perspectives. I hope they view the high street as a source of inspiration and a space they can socialise and be creative.
I think that the audience will be encouraged to reconsider their own local high streets and reconsider how they might use the space – using it as a place they can go to connect, support and be a part of their community.
Lucy Hunter is one of the Photographers in Residence commissioned as part of Picturing England's High Streets in partnership with Historic England and Open Eye Gallery, the project partner leading this residency.
Find out more about Lucy Hunter here.