#16 Street
Photography+ Street focuses on urban environments that surround us and the communities that use them. Launched to coincide with the announcement of
Picturing High Streets
a digital mass participation partnership project between Photoworks and Historic England. The street has historically been a site for studies of social life and the photographic medium has served to capture the lives and relationships of the communities that inhabit them. These elements are explored by the artists and writers of this issue. Featuring work by artists and partners from Picturing England's High Streets,
Liz Wewiora
offers a comprehensive argument that we are in fact the portraits of our High Streets. For this issue, we have invited two of our current six Picturing England's High Streets artists in residence to discuss their journey thus far making work. Artist and Curator,
Tim Mills
, explains the importance of the high street as 'the beating heart of a place' and shares his approach to creating work in Coventry. Whereas
Lucy Hunter
tells us about the work she has been doing with a group of children from Prescot Primary School to explore ideas of portraiture, perspective, and place. Looking further afield
Ricardo Reverón Blanco
examines
Marcello Coslovi's
ongoing body of work to determine the role of abstraction in documentary street photography. Finally, we are delighted to publish as our Community Submission
Roxana Savin's
image taken in Sibiu, Romania that is part of a larger project investigating how the local society and culture identify themselves in a shifting system of globalising cultural trends. We hope you enjoy this issue!
written by Liz Wewiora, Head of Social Practice, Open Eye Gallery 
There is an increasing push for photographers who explore people and place in their practice to embrace socially engaged and participatory approaches to making work. Why? Well, to put it simply, if you want to create a meaningful project that truly reflects a specific place and its community, then who better than the people who actually reside there to help to achieve that goal? Theorist and writer Jacques Rancière describes socially engaged arts practice as an approach that enables 'a community of narrators and translators' to flourish.1 We need to acknowledge that local residents and communities are the experts of their own lived experience: their story is theirs to tell.  
This approach to practice is particularly prevalent in the Picturing England's High Streets projects taking place across the country. These projects celebrate the rich heritage of our local high streets through photography old and new, with photographers in residence working in collaboration with local residents in six areas of England. The residents involved will bring their experience and knowledge of their local area, while the commissioned photographers bring their creative skills and expertise as image makers, guiding and supporting each person involved to develop their own visual language about the people and places around them.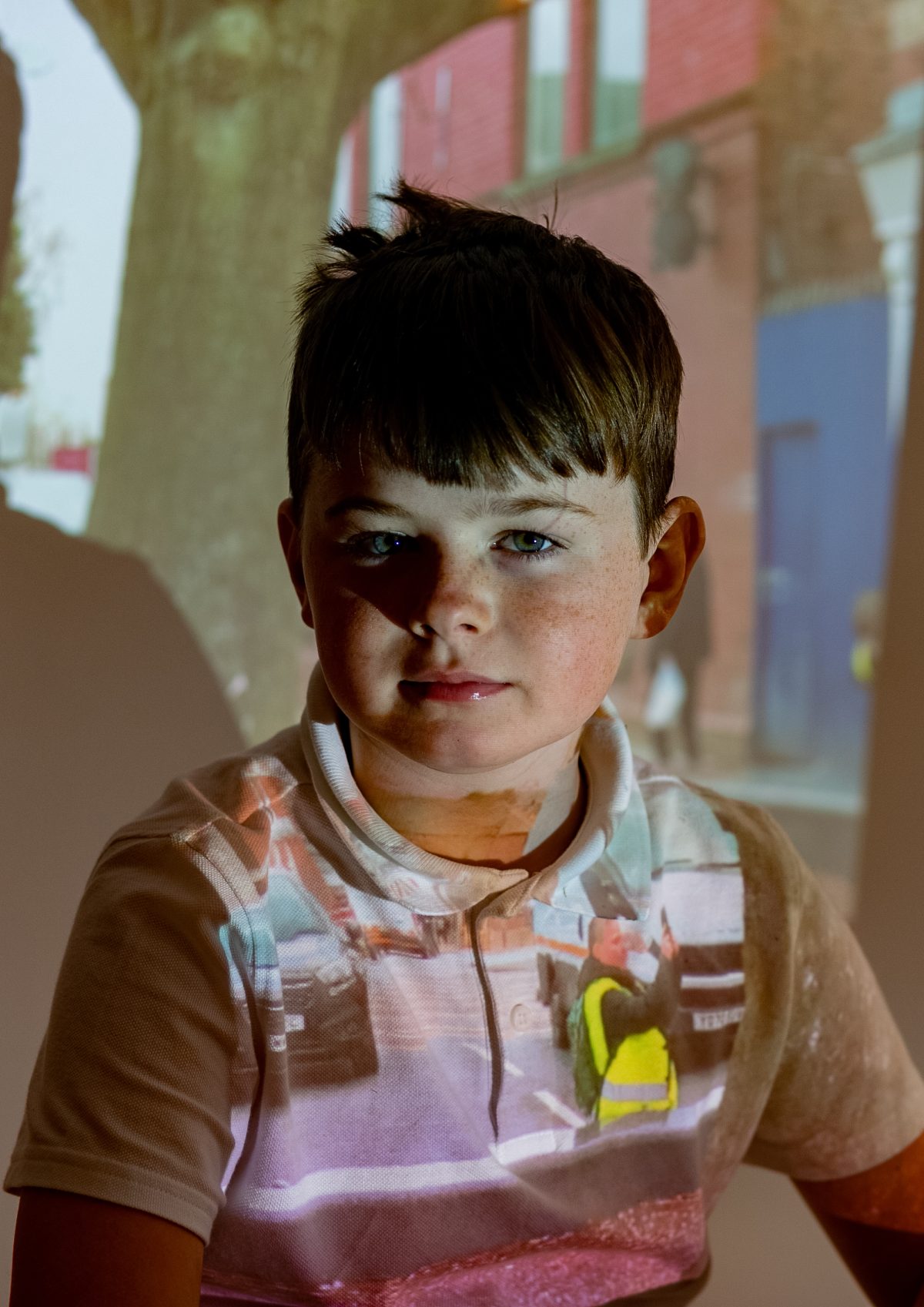 Two of the current commissions are in Chester and Prescot in the North West of England. Both of these areas are rich in social history. Prescot was known for its crafts industries throughout the eighteenth century, from watchmaking to toolmaking and potteries, and some of the associated buildings from this era still stand on the high street today. Chester is home to the Rows, iconic two-tier black-and-white commercial buildings and walkways dating from the middle ages, while the city walls recall its Roman origins. But what do these structures tell us about the people who have resided in these towns over the years, or about who makes up the local high street now? Photographers Tony Mallon, Lucy Hunter, Suzanne St Clare and Ciara Leeming are currently investigating these questions in collaboration with the Liverpool-based photography organisation Open Eye Gallery.  
Each photographer has taken their own approach, but in many respects their work will ultimately be led and informed by the people they meet along the way. Suzanne St Clare has spent time meeting with the traders and buyers around the Chester Rows, slowly developing positive relationships them and encouraging them to share their views on the ever-changing high street. With time, and after many conversations, she has supported the traders to become social documenters of their own high street. Armed with disposable black-and-white cameras and taking inspiration from Japanese photographer Daido Moriyama's random walk, the traders have found a new confidence in capturing their everyday life through spontaneous snapshots. St Clare plans to share these images alongside soundbites of each trader's personal reflections on the changes in the area and their role within the high street.  
Meanwhile, Ciara Leeming has been working with a group of participants from Café71, a safe, non-clinical community space in Chester for people struggling to cope in a crisis. Using the history of the Rows as a loose starting point, the group spent nine weeks revisiting their local area through the perspective of a camera lens. Participants have taken personal and collective photo walks, retracing their daily steps to and from the town centre and Chester Rows, and have played with archival imagery of the local area through photo-collage and photo elicitation with their own new imagery. The project has supported participants to reconsider the details of their everyday surroundings. It has also generated conversations about how places like the Rows, quieter spaces that sit above the hustle and bustle of the high street, can function as places of safety and sanctuary. Leeming's work also highlights how collaborative practice can still yield individually driven and personal outcomes: each participant has brought their own personality and creative spin to the work, with everything from painting and stitching onto photographs to poems written to weave in and out of photo series. 
Photographers Tony Mallon and Lucy Hunter have been working in Prescot for the past year.  Mallon has been running 'photography memory fairs', to which people are invited to bring along personal snapshots or family albums to start conversations about their connection to, and memories of, Prescot. Over time, these events have enabled Mallon to build up trust and friendships with those attending. He has made portraits of the participants that will sit alongside their archival imagery and stories to build a full picture of who makes up Prescot, both past and present. The project has provided a fascinating glimpse into people's local memories and brought a wealth of personal social histories into the public domain. One resident shared a personal collection of over 300 postcards of Prescot that he had collected throughout the years, something which, before the fair, he had never shared with anyone else. It's a beautiful example of the power of social history and photographic archives to spark new interest in people and place.  
Lucy Hunter has been working with year 5 pupils from Prescot Primary School, which is just outside the town centre. Hunter's group has been investigating the local area through photographic walks, exploring the layers and textures that exist but often get missed along the high street. In a way, they have repurposed the space and used the streets as a newfound playground. The pupils have also worked with Lucy to create a series of portraits, which playfully overlay their own image against the backdrop of their local high street.  
What is becoming evident from each of these projects is the diversity of practice that can develop from a collaborative process. Multiple voices can create a richer set of stories. As the curator and theorist Ariella Azoulay argues, 'the photograph is never solely the realization of the preconceived plan or vision of a single author, but is rather the outcome of an encounter'.2 Photography is thus inherently well suited to being a social process.  
All these projects have demonstrated how, through collective investigation of everyday surroundings, new perspectives and stories of the local high street can emerge. Using archival imagery and personal reflections as a starting point can also support unfolding dialogues and strengthening connections to take place between photographer and people, and between people and place.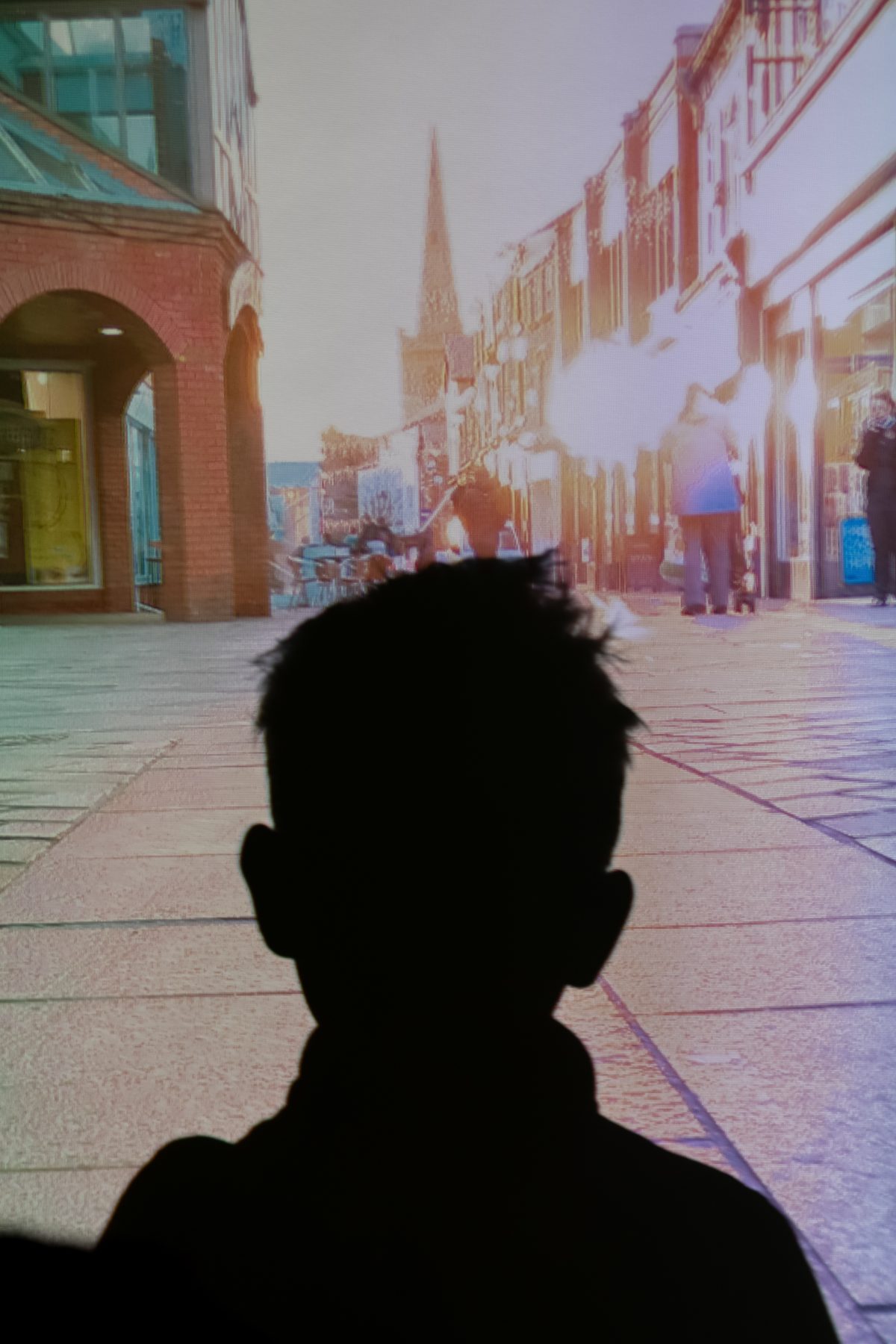 All these projects have demonstrated how, through collective investigation of everyday surroundings, new perspectives and stories of the local high street can emerge. Using archival imagery and personal reflections as a starting point can also support unfolding dialogues and strengthening connections to take place between photographer and people, and between people and place.

[1] Jacques Rancière, The Emancipated Spectator, Verso, London 2009.
[2] Azoulay, Ariella, Death's Showcase: The Power of the Image in Contemporary Democracy, Cambridge Press, MA: MIT Press, 2001.
Liz Wewiora, is Head of Social Practice at Open Eye Gallery. Open Eye Gallery are project partners leading the Photographer in Residency programmes in Chester and Prescot, as part of Picturing England's High Streets in partnership with Historic England.