#11
This new issue of photography+ takes a closer look at the practice of three women artists - Mónica Alcázar-Duarte, Lucia Pizzani, Xaviera Simmons - all of whom have been working towards exhibitions or making new bodies of work during lockdown. We hear from Mónica Alcázar-Duarte, describing in her own words the motivations and connections which weave through her practice. Lucia Pizzani talks us through her new body of work Acorazadas, and we dive deeper into the upcoming exhibition of Xaviera Simmons, as part of the Liverpool Biennial. We reflect on community with curator Ricardo Reverón and artist Eva Louisa Jonas who look back on their recent experience working together to create safe and creative spaces for LGBTQ+ communities. We are also very happy to welcome Tshepiso Mabula, our writer in residence for 2021. Based in Johannesburg her first text introduces her environmental and photographic influences growing up in South Africa.
Text by Raquel Villar-Pérez, Photoworks.
Xaviera Simmons (born 1974) is an interdisciplinary artist who lives and works in New York. Her series Sundown (2018–) and Index (2008–) will be exhibited alongside three new video works at Liverpool Cotton Exchange Building as part of this year's Liverpool Biennial. 
Simmons was exposed to art from an early age and had access to New York's major museums and art institutions as she grew up. Her work is rooted within the art historical canon, which she combines with socio-political commentary. She has developed a multi-layered visual language that investigates the past to engage with present and future histories – particularly matters related to the legacies of slavery, racial justice, and the inequalities of the system – while simultaneously pushing forward conversations around artmaking in general. She considers art to be a powerful language and urges people 'to get more courageous in our language if we actually want to change things'.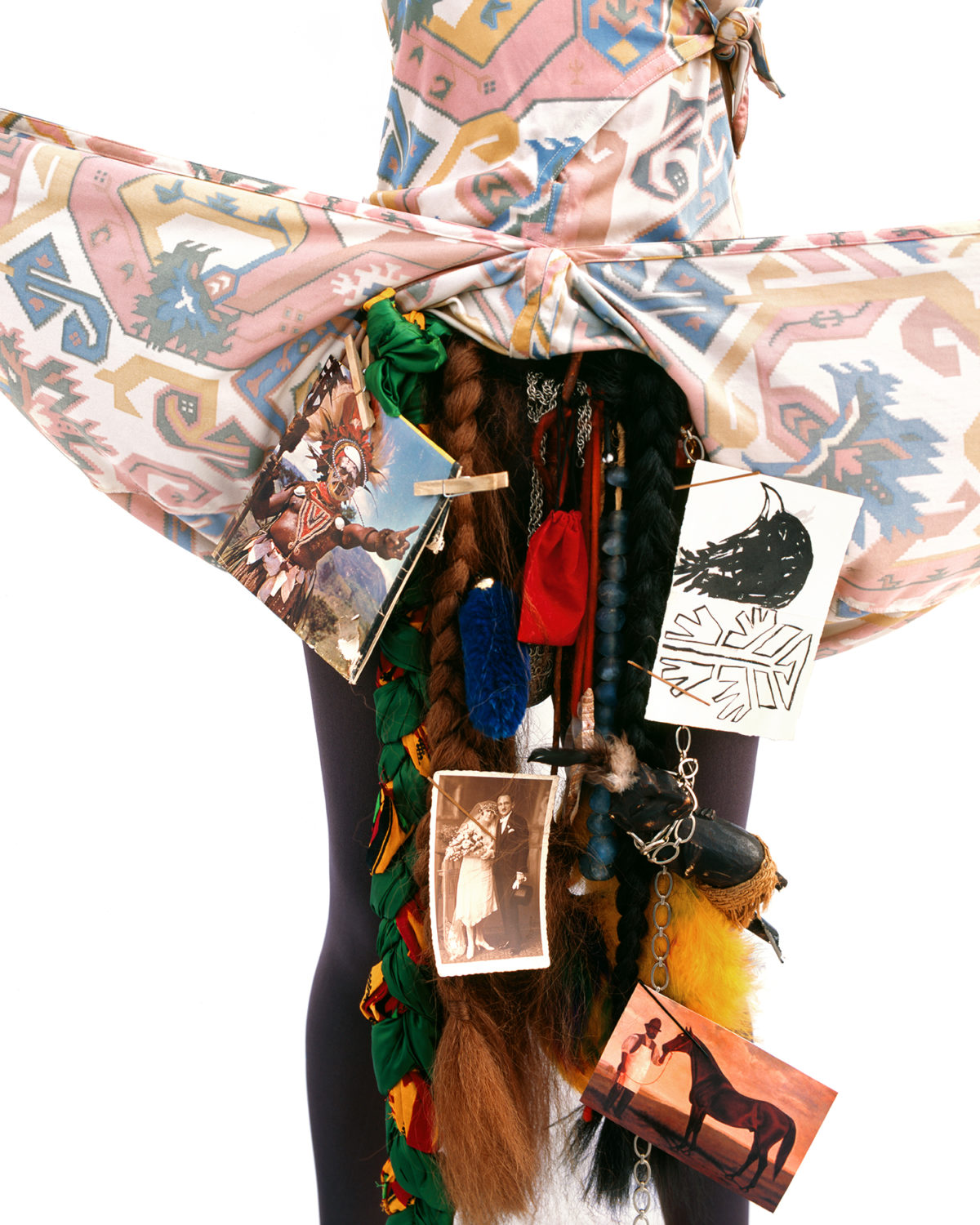 Simmons has been working on both Sundown and Index for a long time. Although distinct, the series share some common ground. 'They're looking at contemporary colour photography and also historical photography, they look at ways that photography can change through sculptural practices,' she explains. 'They both prompt conversations about archival research, and about building and owning an archival research practice, and about constructing anew from those things in the archive.' Archival images present, as John Berger argues, 'a direct testimony about the world which surrounded other people at other times', but when such images are placed in conversation with contemporary photographs, a multiplicity of discourses come into play.  
In the Sundown series, Simmons appears at the centre of each photograph, standing in front of lush botanical backgrounds, some real, some painted. The artist holds archival images showing daily scenes in the lives of Black people in the early twentieth century. Using visual strategies of blending and blurring in Sundown (Number Eleven) and Sundown (Number Fifteen), the artist drives the viewer's gaze upon the archival images. In the former a queue of migrant workers waits to collect supplies of surplus commodities in Florida, whereas in the latter, Simmons presents a dignified W E B Du Bois seated with his classmates from Fisk University – a juxtaposition that reflects the differing life experiences of Black people in that era. Intriguingly, the dress in Sundown (Number Fifteen) is blurred, leaving one wondering if what is perceived is actually true, indicating the fact that racism was and is suffered despite class.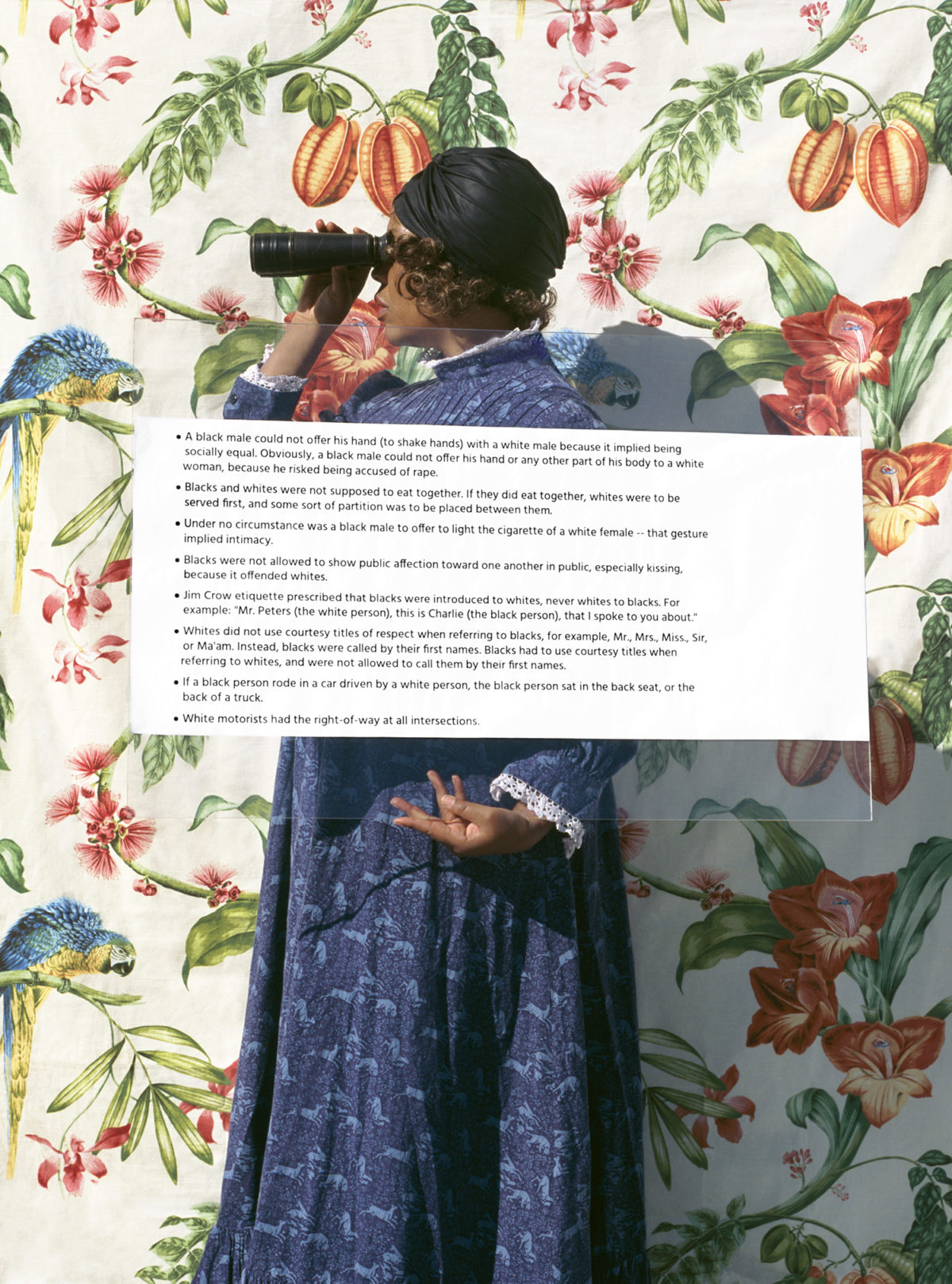 Simmons avoids eye contact with the audience by turning her back on the spectator or covering her face with African masks or large raffia hats. In a number of images, the artist looks through binoculars. The expansiveness of vision evoked by the instrument is flattened by the two-dimensionality of photography, a contrast that draws attention to the myopic condition of contemporary (white, American) society, which, despite promising boundless opportunities, remains incapable of perceiving a sharp version of the realities of Black people's lives. With her work, Simmons is 'trying to understand the levers or the pulleys that need to happen to really activate, particularly white Americans, but also white Europeans, to shift. What will it take for that group to see the requests from the people that they oppress, and what would it take to shift the conditions in which Black people live?'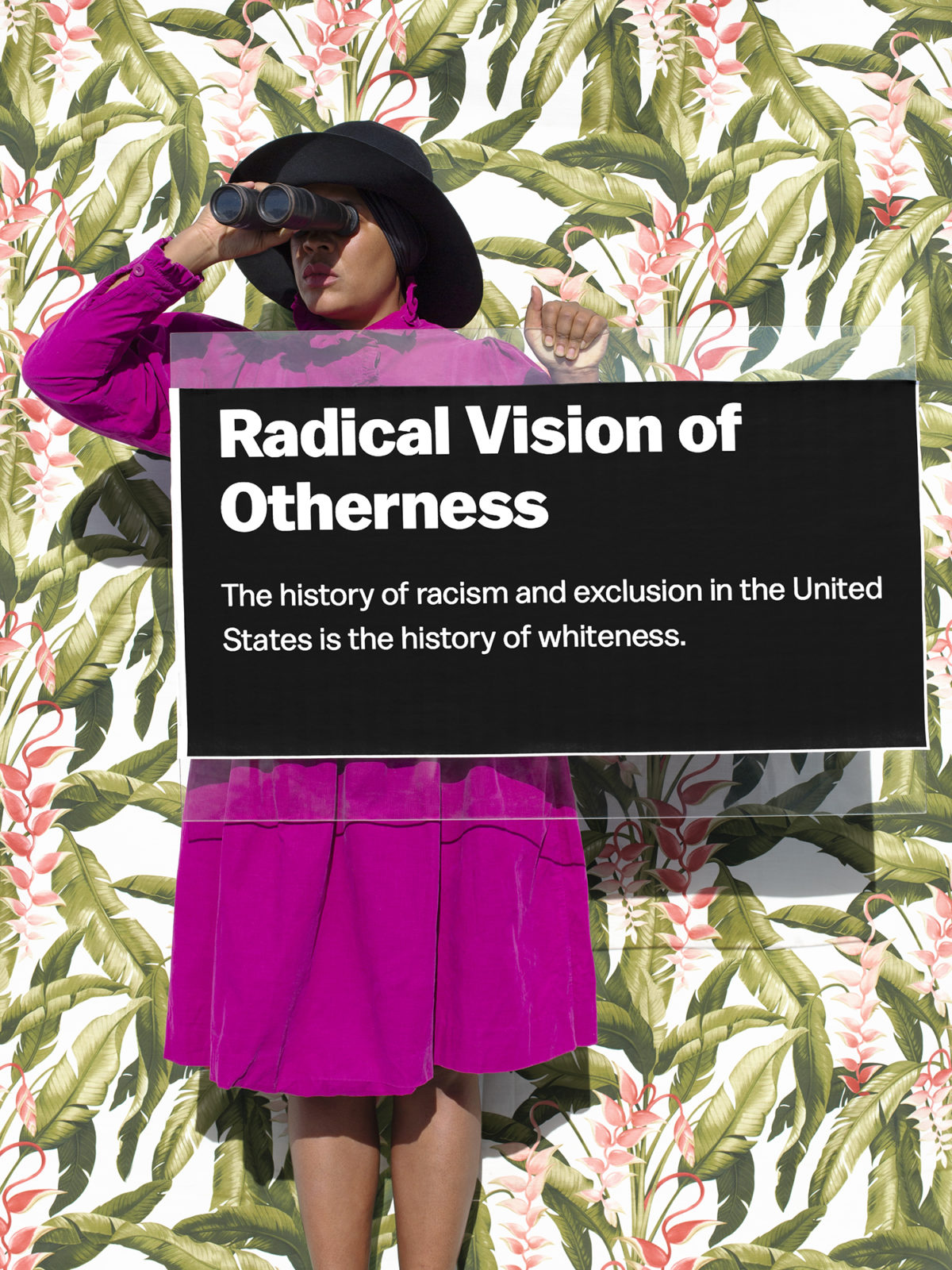 Singular figures also appear in each of the works in Simmons's Index series, but instead of holding individual archival images, they hold a 'whole archival shape'. The figures are constructed by way of assemblage, indicating the artist's preoccupation with sculpture. Each one presents a collection of artefacts and images hanging from the waist down, whereas the top part of the body is covered by fabrics, thereby concealing the individual's face, arguably, the utmost signifier of identity. Index presents different subjects as defined by their cultural baggage, reflecting on the multi-faced nature of identity and questioning how identity can be defined – or if it is even possible to do so.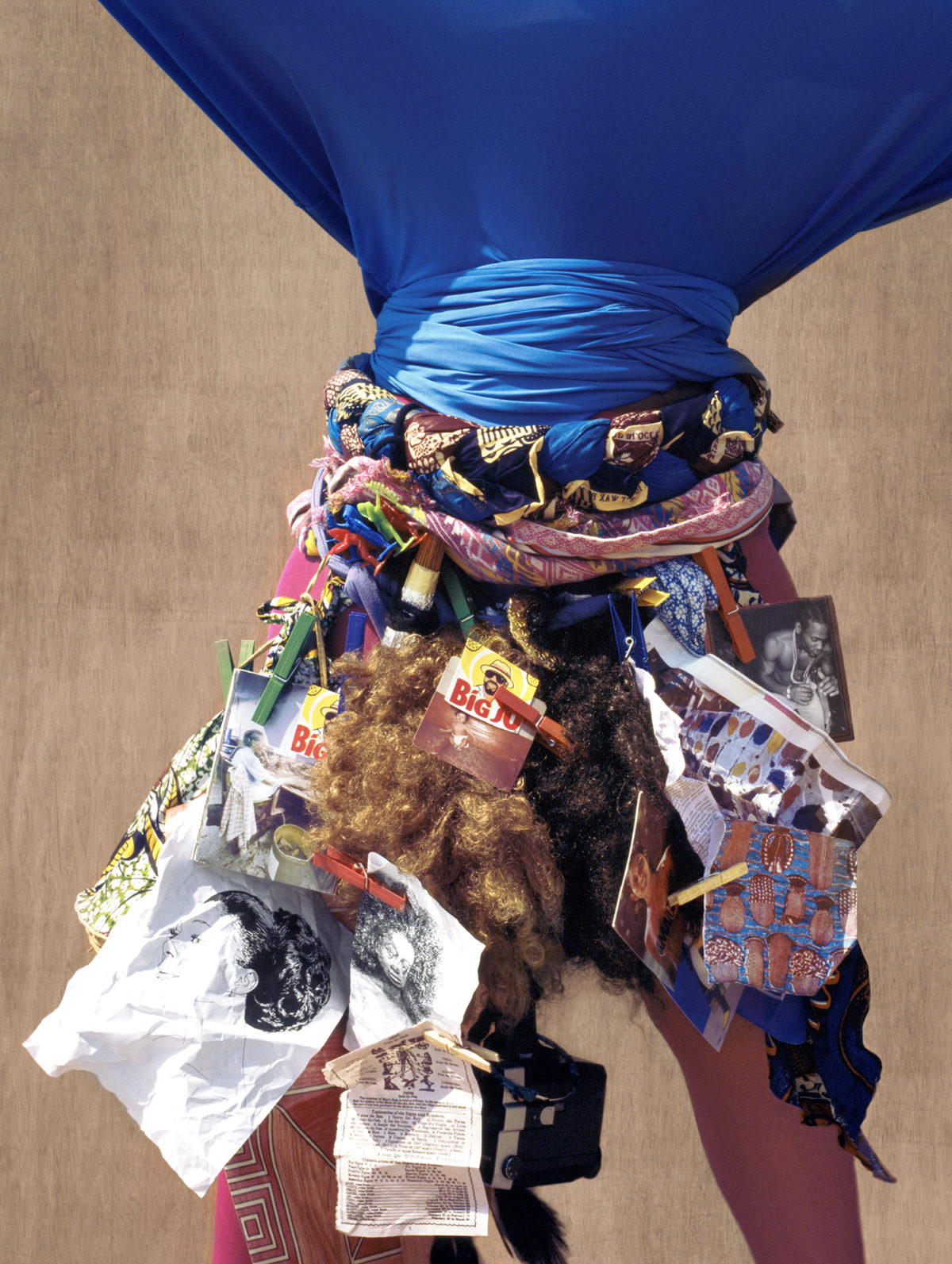 In Index Two, Composition One, the figure carries a variety of disparate objects hanging from a thick braid made up of what looks like African wax fabrics around the subject's waist: a couple of wigs and hairdo drawings, a page of a book explaining the horoscope, a photograph of a young Black man captured possibly dancing, what looks like an African wax design referencing different hair styles, a photograph of an old Black woman seemingly at work, a picture of a Black baby and cutouts of Big Jo packaging (a Jamaican juice producer), among other items. By revealing the different elements that constitute the self, the artist disputes the essentialising process by which some selves are othered.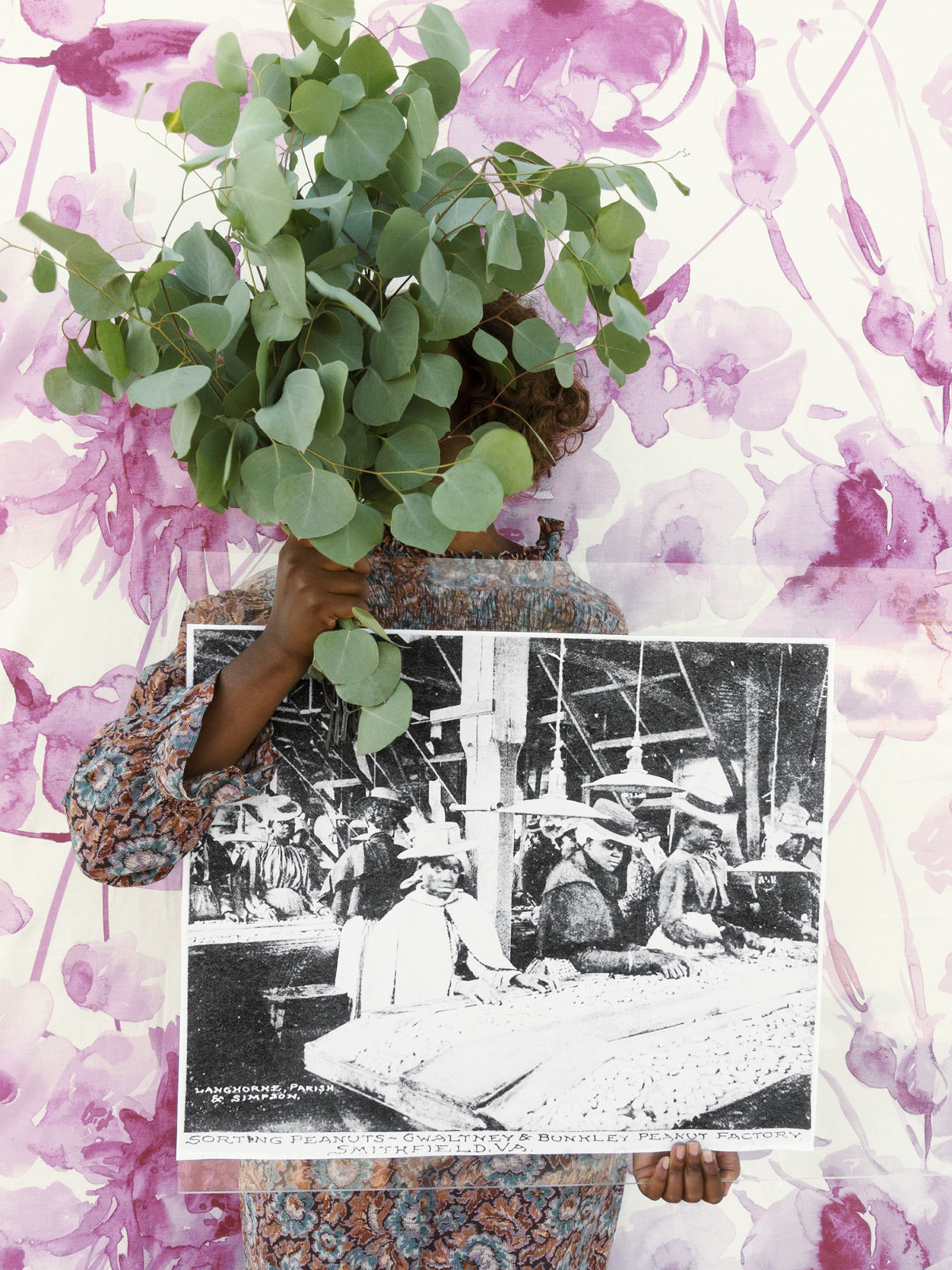 For Liverpool Biennial, Simmons has continued expanding on these ideas of race, whiteness, archival research practice, and identity in three new video works. Comprising one animation, one live-action clip, and one text-based video work, these new pieces will 'follow their own path by hinting at other things', Simmons explains. 
Liverpool Biennial, entitled The Stomach and The Port, runs from 20 March until 6 June 2021.